TimeWatchR - the only app you will need to work more efficiently and save time
An awesome time-tracking tool
for you and your team across
projects
TimeWatchR is a powerful cloud-based application that allows users to track and schedule work time through an intuitive and easy-to-use interface. TimeWatchR allows you to generate reports on this data, which you can easily print and export.
Discover More
Benefits of TimeWatchR
Time Tracking with TimeWatchR has many benefits:
Accurately Track your Work
Effortlessly manage multiple Projects, Clients & Teams
Easily determine hourly, monthly or fixed rates for Projects and Resources
Smoothly Schedule Events and get notifications
Generate Invoices and Expenses
Track Employee movement through GPS tracking
Set up Geo-Fences so that employees can only work in designated locations.
Discover More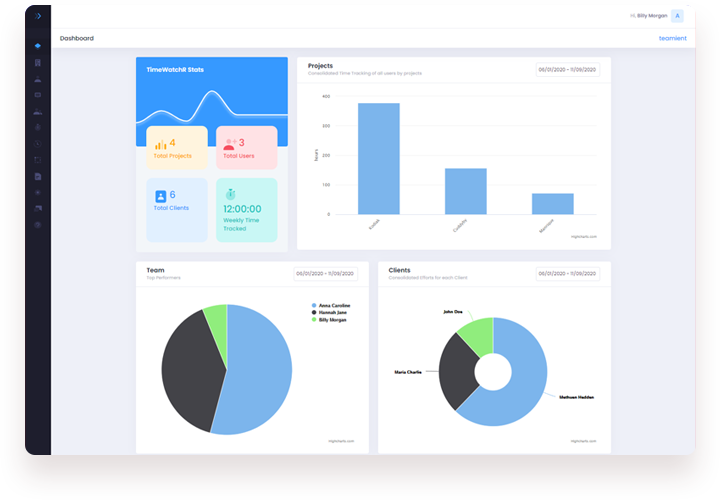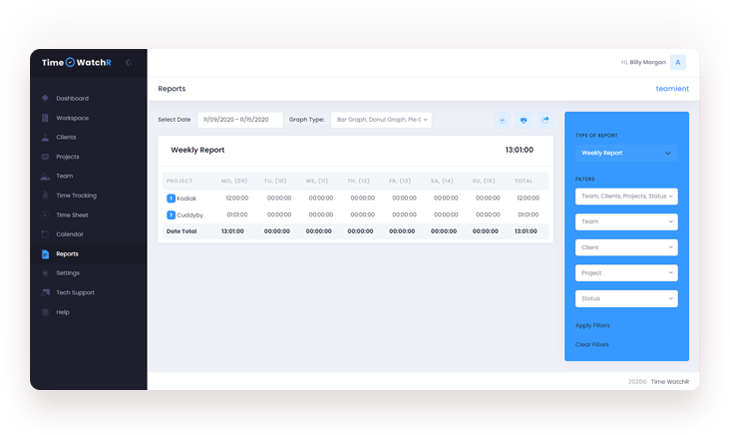 Features
Revolutionize how you
track time of your team
Testimonial
What our client say about us
Congrats TimeWatchR team, it's a such an affordable and great tool for us here in USA/Canada where every cent count.
TimeWatchR is awesome! It has changed the way we work. Thank you so much for your development Skill for this tool!
Thanks for your beautiful and easy to navigate apps. i have been using the time tracker for several months now, and i have invited my colleagues to use Time WatchR.
We recently switched from other Timetracker tool and I'm very happy with TimewathR so far. The key differentiators for us are the timesheet and the pricing model, but other features of TimewatchR are awesome.
Good time tracker. It has almost all feature we need in our team. We use TimeWatchR for 4 months now, and most of the team members like it.Great!
TimewathR has been very helpful for our small business. It's easily customizable and we can track projects and resources easily and  more efficiently. It helps us ease the burden of project planning,resource planning and labor cost projections and optimization
Thank you so much for making such a Great Apps,Web,Mobile Apps. We are setting it up for our office and we're so happy we've found it. It will make our lives so much easier.God Bless You.
We highly recommend this Timetracking Apps  for  anyone wanting to track work hours and salary of their staff via an online platform and Mobile Apps, i highly recommend TimeWatchR! We use it in our Road Construction organization  to log our staff's hours for different locations.We are using TimeWatchR's Android and Ios Application for different work locations time tracking
Really enjoying using TimeWatchR since 6 months .Thank you for your amazing customer service!
We've started using TimeWatchR 10 days ago and really love it. Right now we consider moving to the paid plan and making it our main time tracker for all our projects in company..
PRICING PLAN
Choose your Plan